I figured since I did my top 12 favorite products as mama, it was only right that I do Kennedy's top 12 favorite products as well. Now you might think well she can not tell me what she loves but as a mom it becomes pretty easy to tell what your child likes and what they do not. So with that said these are Kennedy's favorite items over her first six months of being outside the womb!

TOP 12 FAVORITE PRODUCTS
1. Hevea Pacifier $10:
This is by far the best pacifier we tried not only is it made of all natural latex rubber it is soft enough to chew and prevents from leaving marks around the mouth. If you have a picky baby that has yet to find a pacifier they like I swear this will be the one to change the game! I even love the cute little cutouts you can choose from such as crowns, ducks, moons and stars. Also, if you are breastfeeding it is important to use a pacifier that resembles a nipple so you can prevent nipple confusion. This one has a round head and a flat head option. Totally worth the extra few bucks!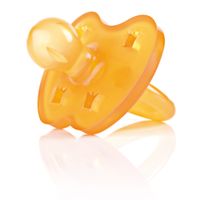 2. Myla Moos Pacifier Clip $15:
If your baby is like me and see's something they want to stick in their mouth that is more appealing than their pacifier...out pops the pacifier on to the dirty ground. Now I was really against buying a pacifier clip (because it just ruins an adorable outfit) but when it came time to travel with Kennedy for the first time I knew I had to give in. Of course we could not just get any normal pacifier clip, so I went on Etsy to find a few that would go with her outfits! I will be featuring those shops soon, so check back for that. Kennedy now not only loves being able to just grab her pacifier when she wants it she looks stylish doing it!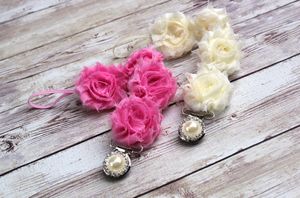 3. Vulli Sophie the Giraffe Teether $20:
This is by far Kennedy's favorite thing in mama's diaper bag. She has been playing with this teether since about two months old. She has enjoyed looking at it, squeezing it and now of course teething on it. It is the perfect size to hold and lots of different areas to grab onto for their small hands. It is also great because when I read her Sophie stories she is able to see that I am talking about the animal she is holding.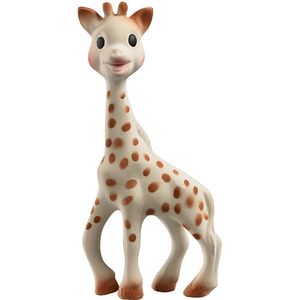 4. Tommee Tippee Closer to Nature Bottles $22 (3-pack):
I'll be honest we did not try any other bottles but after much research I felt this would be the best bottles for Kennedy and she took to them right away. Being that I am breastfeeding I wanted to make sure she would not have nipple confusion and this bottle was definitely the closest to an actual nipple. She is able to hold the bottle on her own with ease with no leakage. And being that she loves to do everything for herself she absolutely loves these bottles. Moreover, this brand has bottles for each phase for the growing process into an adult cup. She is currently using the 4+ month sippy cup. :)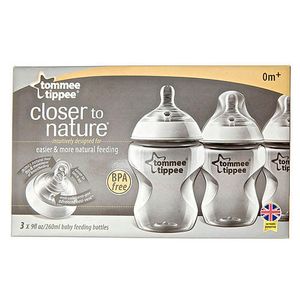 5. Lamaze Flutterbug $15:
This was the first toy Kennedy really took a liking to, I think it is the combination of black and white and contrasting colors from all angles as well as the easy areas to grab onto. She really loves that when she tugs on it and lets go it vibrates making it flutter as well as the different textures and noises she can feel and hear when she grabs it! This is a must have for every car ride!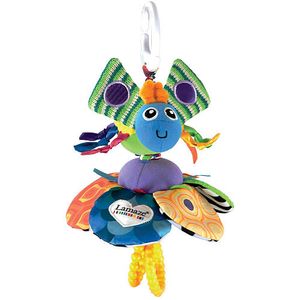 6. Pottery Barn Kids Sherpa Stroller Blanket $40:
Kennedy has tons of stroller blankets but she has taken a strong liking to this blanket. It is seriously the softest blanket I have ever felt so much so I had to buy it in adult size! And of course I think she loves that it has her name on it!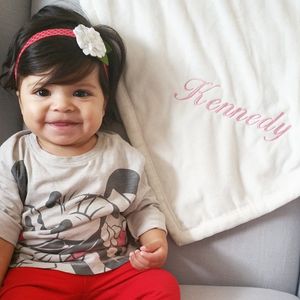 7. Cloud B Sleep Sheep Plush Sound Soother $25-30:
Kennedy just loves this little sheep she sleeps to the sounds it makes for every nap and bed time each day. She has both sizes one for the crib and one for the stroller. It has truly been a life savor when we are out allowing her to drift to sleep anywhere. It also has an easy velcro attachment on the back which makes it easy for travel being able to hook on to almost anything. It makes four different sounds rain, ocean, heartbeat and whale (she loves them all). She has most recently taken a liking to the sheep as a cuddle buddy she is always trying to pet it, squeeze it or chew it. :)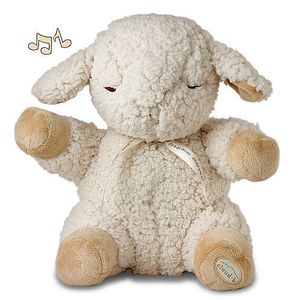 8. Cloud B Twilight Ladybug Constellation NIghtlight $35:
At about two months old I discovered how much she loved lights which is common with many babies but she particularly loved looking up at them. After, looking at many products I came across the perfect nightlight the Twilight Ladybug now it is a staple for each bedtime. She loves looking up at the stars on her ceiling it's as if she is sleeping right underneath the real stars ! You can even change the color into red, green or blue. What is really wonderful is that it comes with a cute little story and has the real constellation of stars as well so when she gets older I can show her what she is looking at!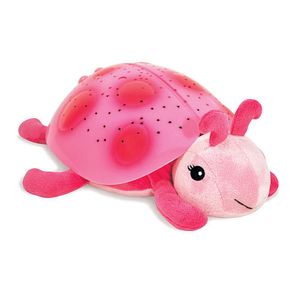 9. Lil' Sidekick $15:
Ok now this is something both Kennedy and I love. It has been such a great accessory for her stroller, no more playing the drop game. What is so great is that it can hook onto any toy or bottle and it keeps them from falling on the ground. It comes in 5 different colors and what a steal for the price of no more dirty toys, bottles or hurting your back from bending over 24/7 picking up dropped items!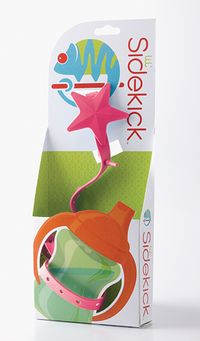 10. Sheepskin Stroller Liner $60:
Yes, you read that right Kennedy has a sheepskin stroller liner and she totally loves it I mean what child wouldn't. It keeps her temperature just right all while being comfortable cruising in her stroller. No stroller seat should be without one of these, because really stroller seats by themselves do not look very comfortable and if you want to enjoy a day out with your baby this is a great head start!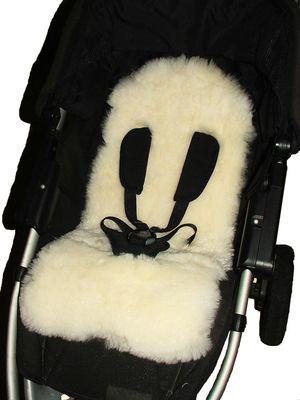 11. Baby Banana Bendable Teething Toothbrush $9:
I cannot take credit for this awesome find. Kennedy's Dolly (Grandmother) found it for her and she instantly light up when she gave it to her. She had just started teething and this really helped massage the gums and is really easy to hold. I also stick this in the freezer so when she is in a lot of pain this really helps to ease it.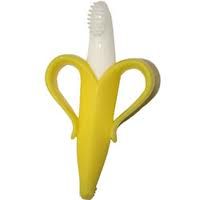 12. Fisher Price Rock-A-Stack $9:
I think this toy has been around long before I was even born and it is such a staple in any toy box. Kennedy loves the bright colored rings and enjoys trying to stack them on top of each other as well as throwing them and watching the tower rock back and forth. A timeless toy that she will be loving until she is two!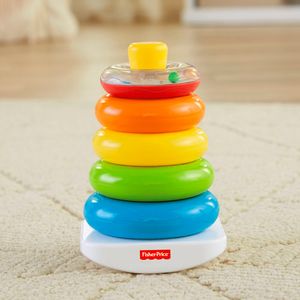 Until next time mamas stay styled right with your mini's on your side! xoxo FSR