Have you recently got engaged? Are you dreaming of your big day and are just overwhelmed with all the planning that needs to be done? Are you looking through 100's of bridal magazines and are completely confused? Maybe you already know the location of your wedding and maybe you already know the colors but as far as the wedding dress and bridesmaid dresses are concerned you have yet to even begin making choices. As we have seen in many movies the bride always seems to of course pick a beautiful dress for herself but when it comes to the bridesmaids everything falls to the waste side. Personally, I think the bridesmaids dresses should compliment the brides dress and complete the theme of the wedding. For some reason many brides have this notion in their head that the bridesmaids dresses have to be ugly in order to not out shine the bride. However, that is the most outrageous thing I have ever heard. I mean seriously how can anyone out shine the bride on her big day?!?!?! So lets get that straight ladies your bridesmaids can look fabulous but you will always look the most stunning! 
As I am sure you have noticed by now that weddings are very much influenced by fashion. If you look back to the 80's the dresses had puffy sleeves and usually were floor length. In the 90's it was long sleeves with lace and full ball gowns. And today well, let's just say you have a wide range... mixing many different eras of fashion from sleek silk gowns, to peplum, to mermaid styles, to all things lace and back to full ball gowns. Everything you can think is out there and now it's just a matter of personal preference, what looks great on your body and of course the theme for your wedding. 
As a matter of fact ladies, deciding on a theme for a wedding can really help the process when picking out your dress and your bridesmaids dresses.  As I have seen over and over again the first thing a newly engaged woman does is think first and foremost what she will wear before giving much thought to the style and theme of the wedding. Which is a major pitfall because if you start with a dress it will only make planning the rest of the wedding way more difficult. So save yourself ladies and find your venue first than your dress! I promise it will save you time and make for a much more enjoyable experience for the whole planning process. 

Well I want to keep this short and sweet so here are just a few steps to help make you feel like a fashionista on your big day:

1. Choose venue.
2. Choose theme of wedding.
3. Decide on your wedding dress budget.
4. When you go to try on dresses make sure you have your makeup and hair done and don't forget a bra and heels! This will make all the difference when trying dresses on.
5. Try on different styles to find out which is best for your body. You may find that a few different styles look great on you so at that point it will be just personal perfernce and how you want to feel on your big day. 
6. As you try on dresses think how you feel in the dress. 
7. Take pictures in the different dresses so you can compare. It's amazing how looking at photos compared to staring in the mirror can give you a whole different outlook. Also, if you can't decide you can go home and re-look at them. 
8. Only bring 2 people with you max I swear this will make the process way easier. Even just one is good enough! 
9. Buy your size today not what size you wish to be on your wedding day. *Trust me you will thank me later for that one! 
10. Now for picking accessories just make sure it compliments the dress and style and does not take over. Remember, you want to see you not just everything you have on! 
11. Oh and please get your dress bustled there is nothing worse than a bride carrying around her dress all night. For one thing it looks horrible in photos and two it just looks tacky. :) 
12. MOST IMPORTANTLY: Find shoes that are comfortable and that you can dance in all night. Achy feet makes for an unhappy bride.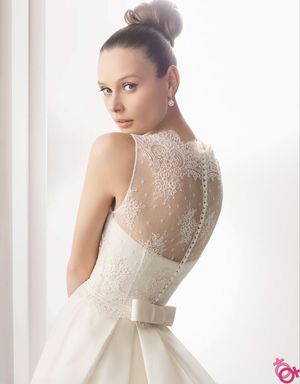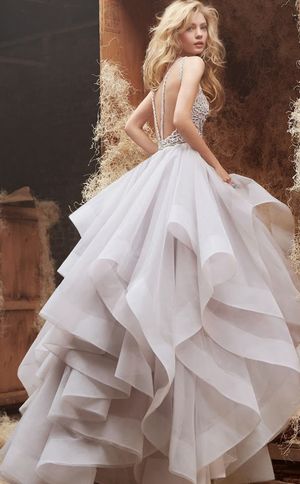 Tips for choosing bridesmaid dresses:

1. Make sure they compliment your dress. Everyone needs to look like they are going to the same wedding!
2. Choose a color or colors that compliment everyones skin tone. 
3. If you are have bridesmaids with different body types it would be best if they wore styles that compliment their body instead of trying to fit them all into the same style. 
4. Add something personal to their attire that pertains to your wedding.
5. Pick shoes that are comfortable because again you probably don't want pictures with your girls shoeless or even worse flip flops on the dance floor! 
6. MOST IMPORTANTLY: They are your bridesmaids make them look beautiful and do not tell them they will wear these dresses again etc. Because I am pretty sure none of them ever will but they will be happy to wear whatever you chose especially if you chose something that compliments them!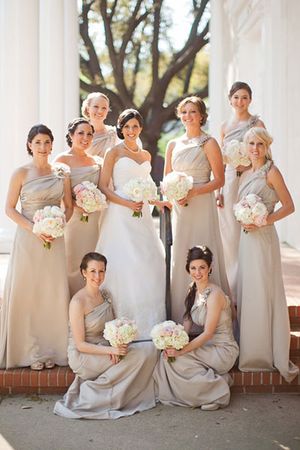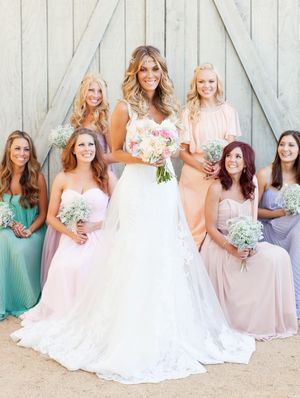 Ok my lovely brides to be, happy dress hunting! xoxo FSR