Hello lovelies!! I am so excited to finally reveal our master bedroom makeover. It took a long 8 months but it was worth the wait. After, a million pinterest pins, late night designing, switching items in and out it all came together just right. When I first started working on this project there was a lot to consider as Chris and I have very different design taste and since it is our bedroom I really wanted to find a happy medium that we would both enjoy! Luckily, agreeing on wall paint color was the easiest part; we went with a rich Emerald Green which set the tone for the whole room. It was then, that I knew exactly what we would do next. We wanted a modern/ mid-century vibe room so that meant warm tones, low profile furniture and clean spaces. Below is the thought process behind each piece in the room. I hope you love it as much as we do and I would love to hear your thoughts below! Happy reading. :)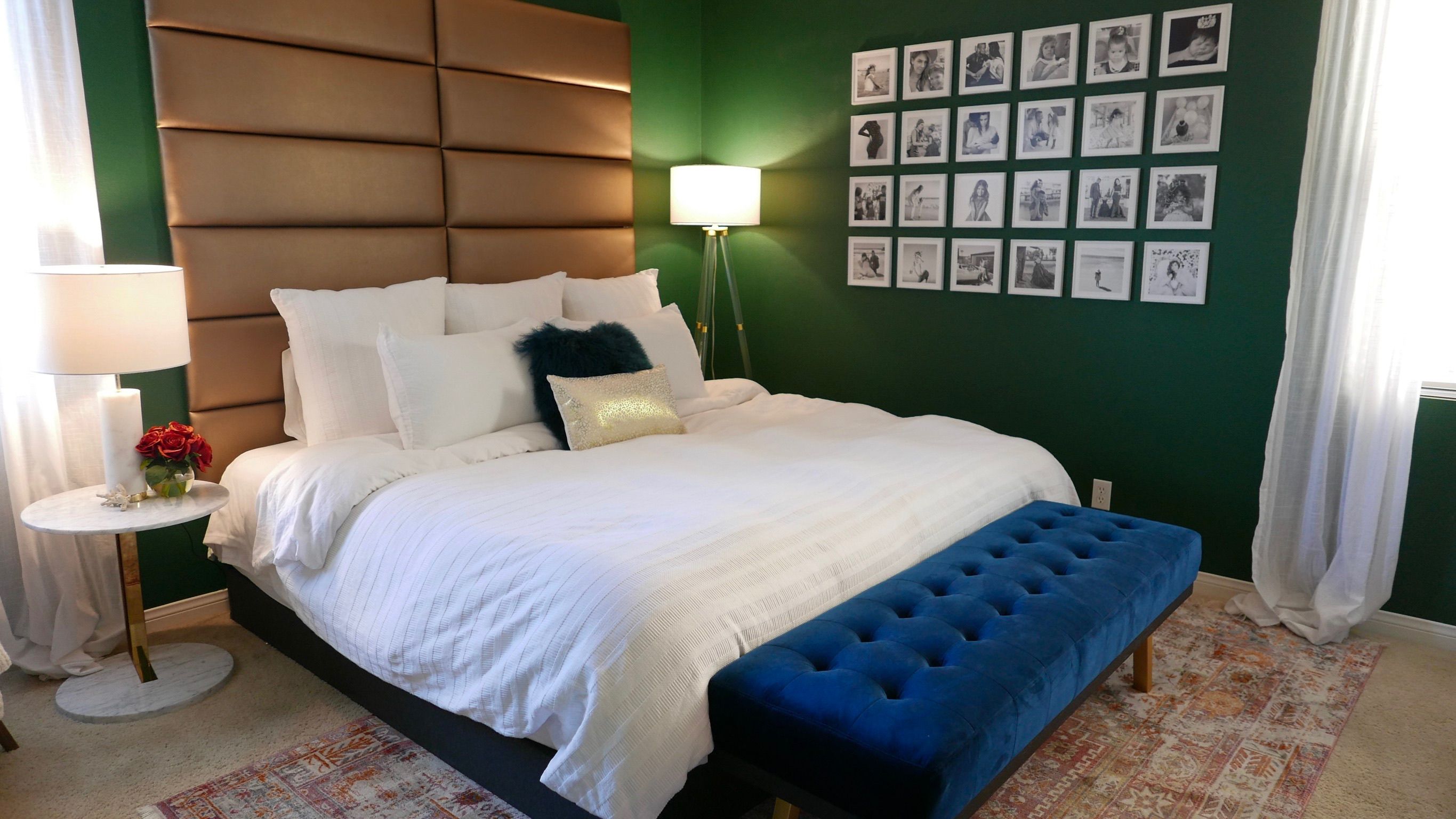 THE DRESSER
I am definitely one to try to reuse and repurpose items so instead of getting rid of a perfectly good dresser we gave it a much needed update. It went from this drab white traditional dresser to a very modern rich looking dresser and for only $30 bucks! All we did was spray paint the handles gold and put a vinyl wrap on top of the dresser to make it look like marble; genius right!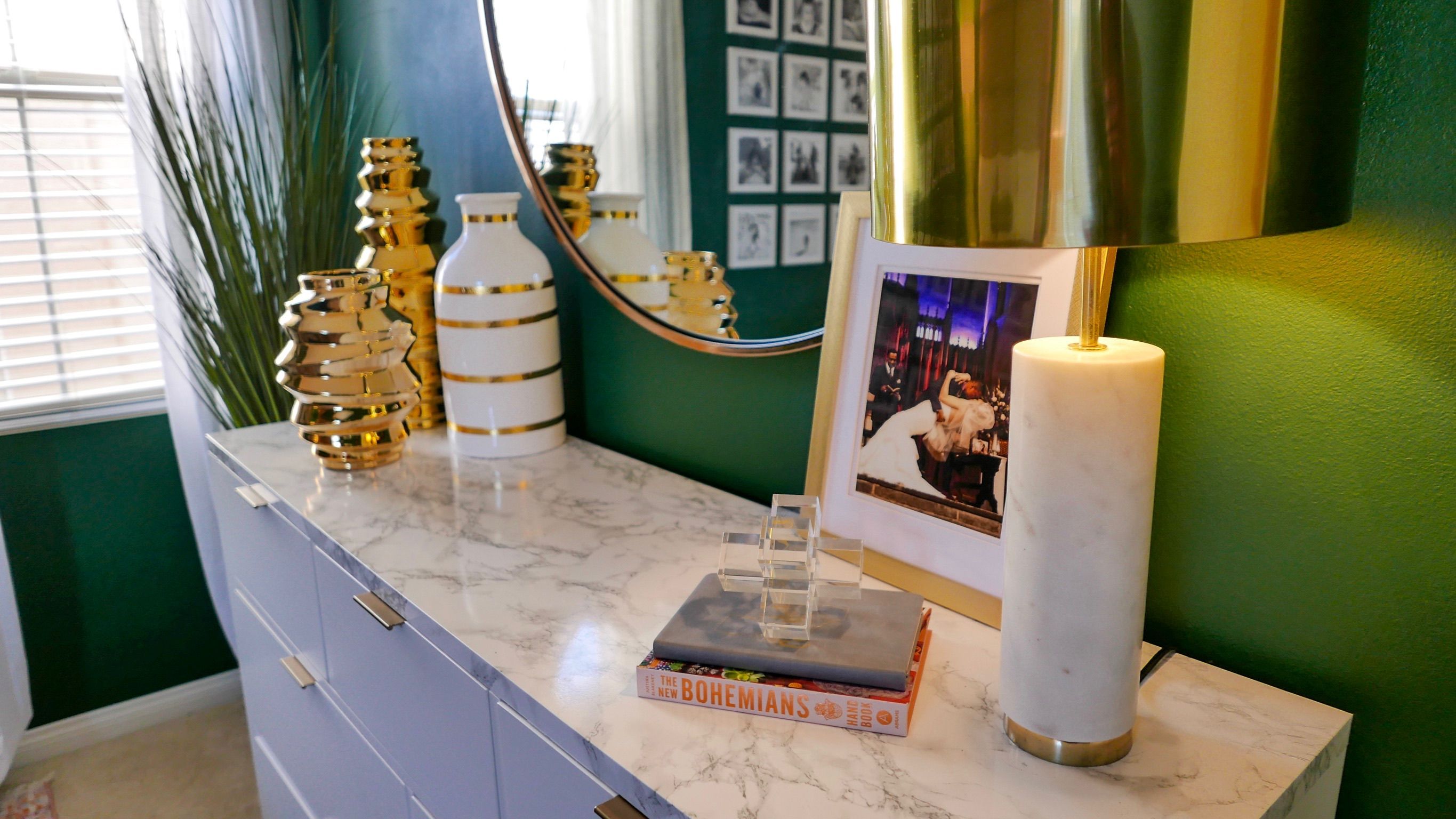 THE BED
Next up was the bed. Now this was definitely the most important part as this is really what the room is for right. To get a good nights rest. Well, we definitely are thanks to DreamCloud. It truly is like sleeping on a cloud. Chris and I have been getting the best sleep of our lives and thank goodness because between Kennedy, meetings and events we are exhausted when we get home so knowing we have a comfy bed to come home to makes all the difference.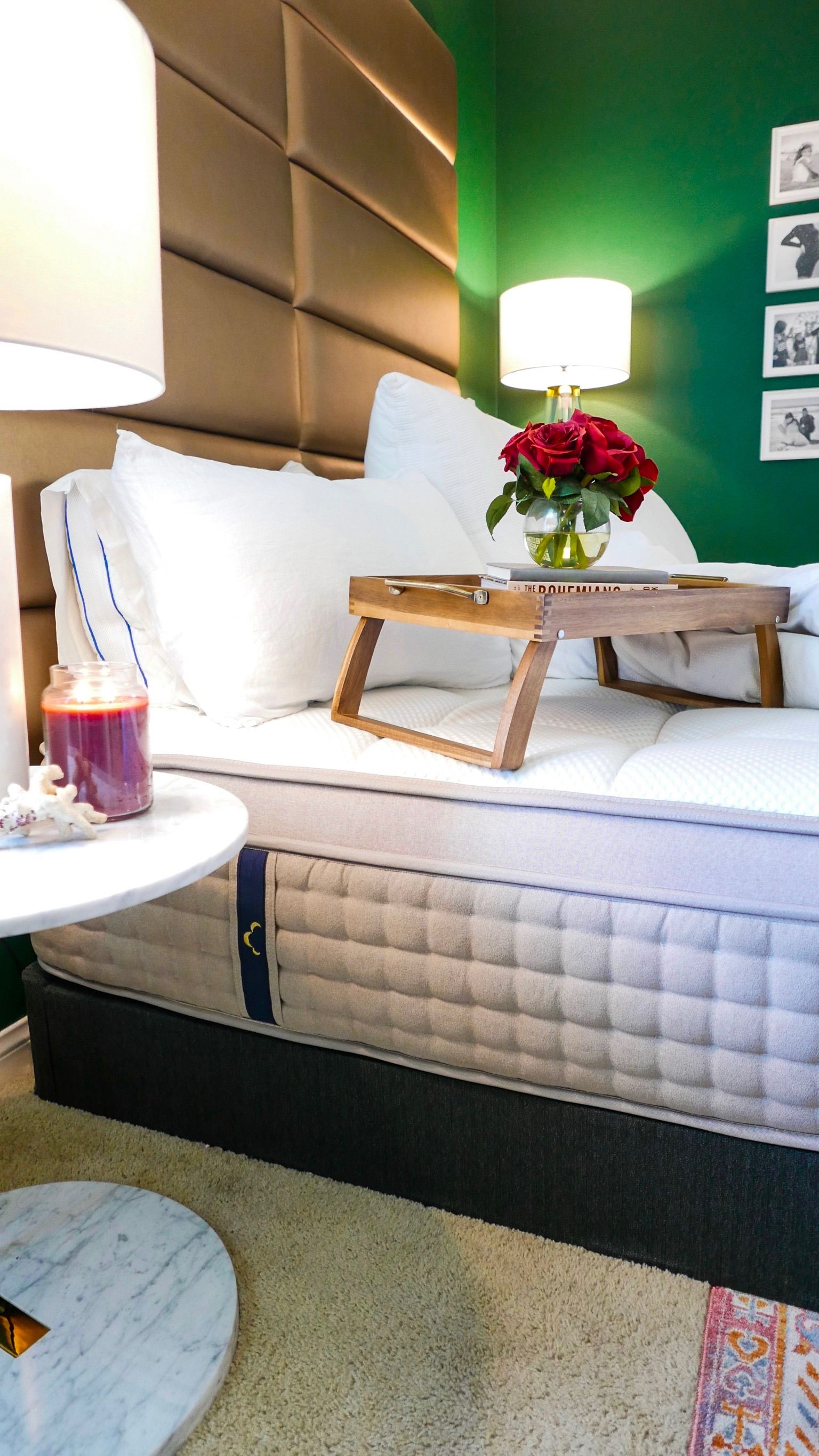 THE PANELS
Now since Chris and I had very different opinions on what we liked when it came to headboards thankfully we discovered Vant Panels and we both fell in love immediately. He loved the fact that they looked very modern; I loved that they went up high and were a really beautiful metallic gold. It seriously elevated the room and not only became the focal point but I feel like every time I walk into our room we are in a fancy hotel!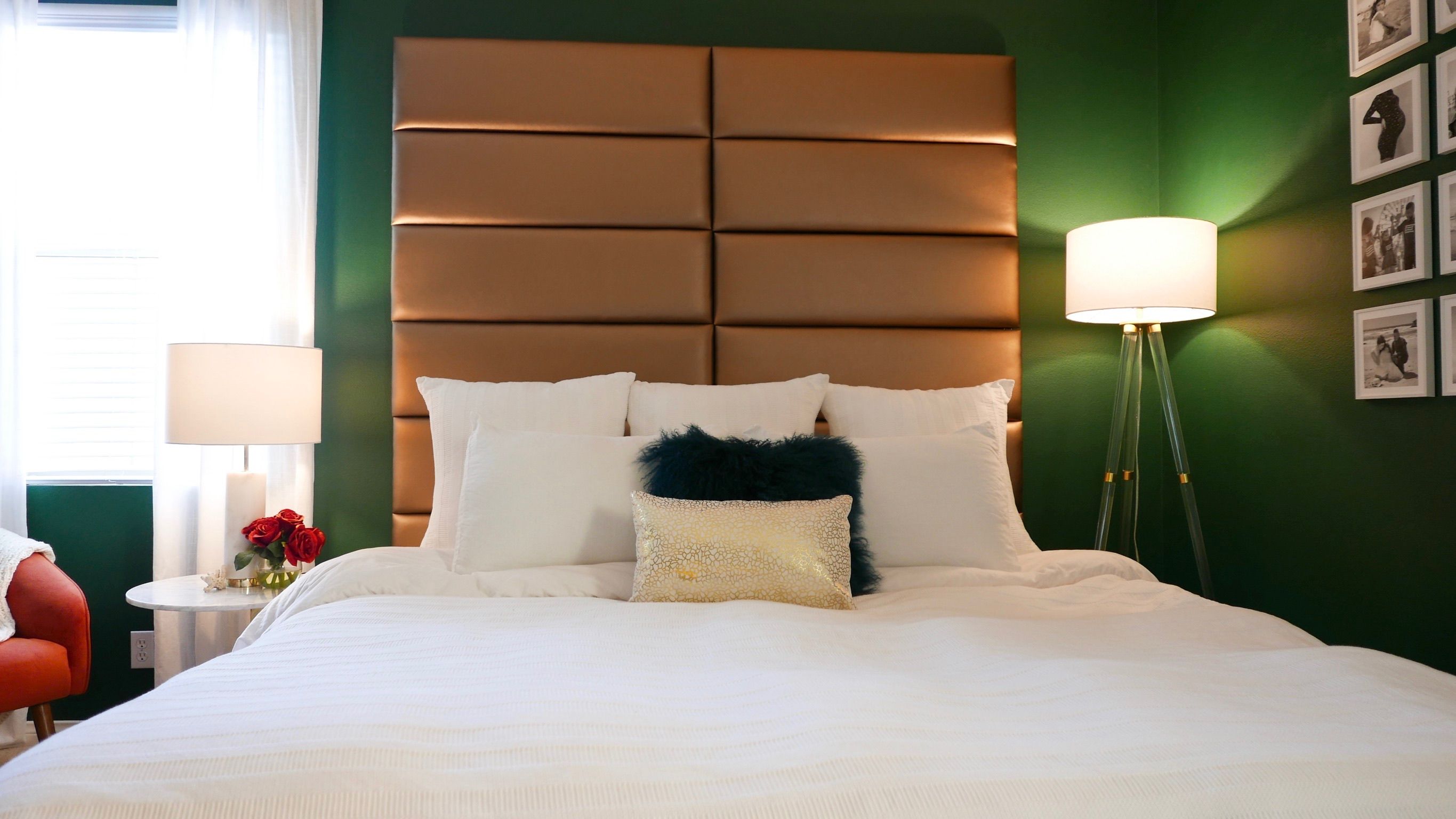 THE CURTAINS
With the curtains I wanted something light since the walls had so much color going on and since the room does not get a ton of natural light I figured sheer curtains were the best option. Again, I wanted to stay budget friendly so I grabbed $10 curtain rods from Target and sprayed them the same gold as the dresser handles and it tied everything in perfectly. 
THE BEDDING
Now, when it came time to decide on bedding it was the easiest choice as I knew I wanted white everything on the bed. Something about sleeping in all white sheets makes you feel like you are sleeping on clouds. The whole point of the makeover was to create a peaceful and chic space that both Chris and I loved so white was the perfect choice to create that peacefulness in the bed. Now, of course I had to throw in a little color to tie in the walls so I grabbed a sheepskin pillow from West Elm and beautiful gold and cream pillow from Sleek Modern Furniture. It really gave it the perfect pop it needed.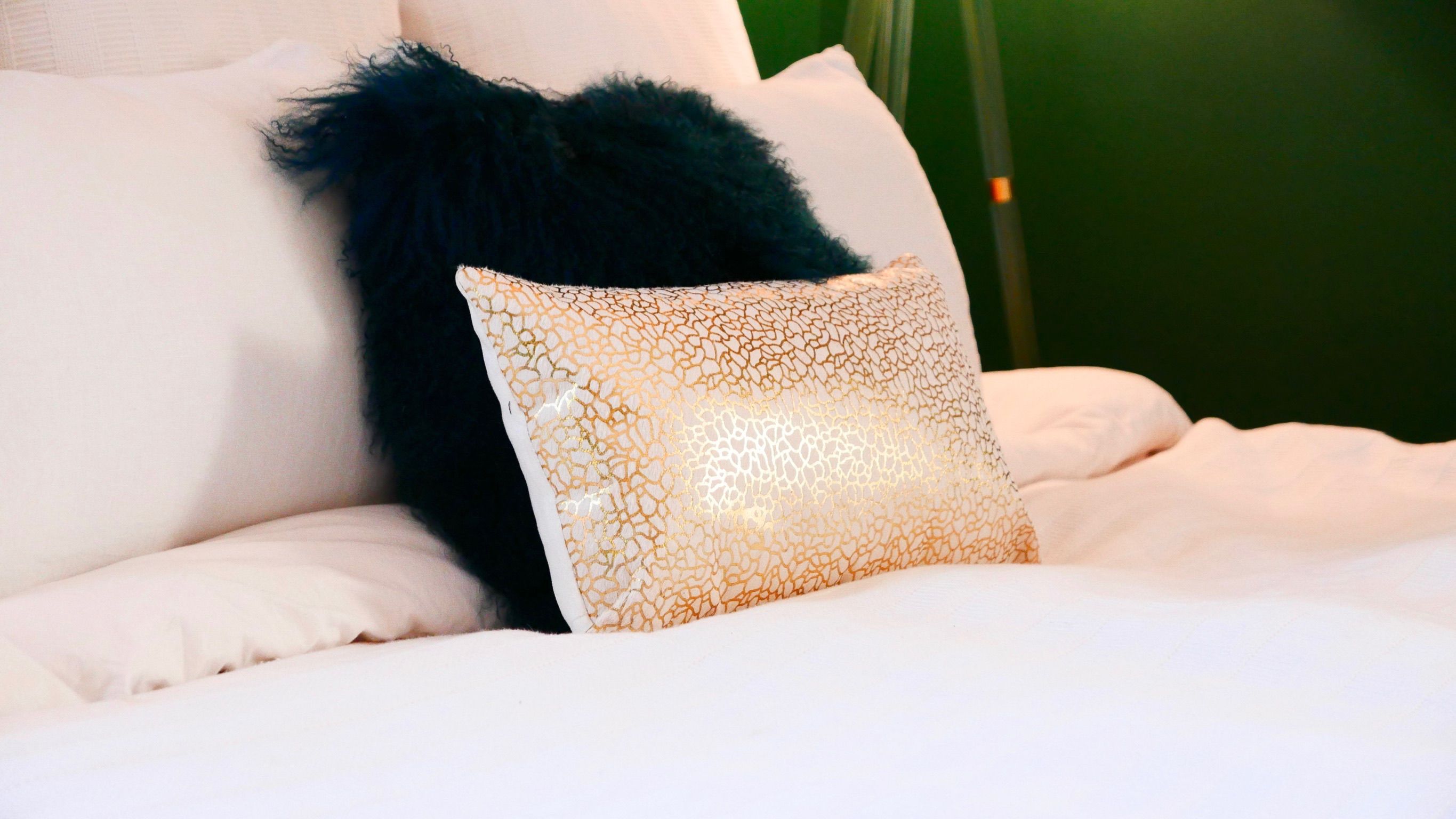 THE BENCH
I can not tell you how long I have wanted a bench for but I have been telling Chris for years I wanted a bench at the end of our bed and I finally got my way! Haha He kind of fought me on this one but you can see who finally one and when it arrived he agreed it was marvelous in every way. I knew it as soon as I saw it, the color, the fabric and the legs had me in love instantly. Another great piece from Sleek Modern Furniture.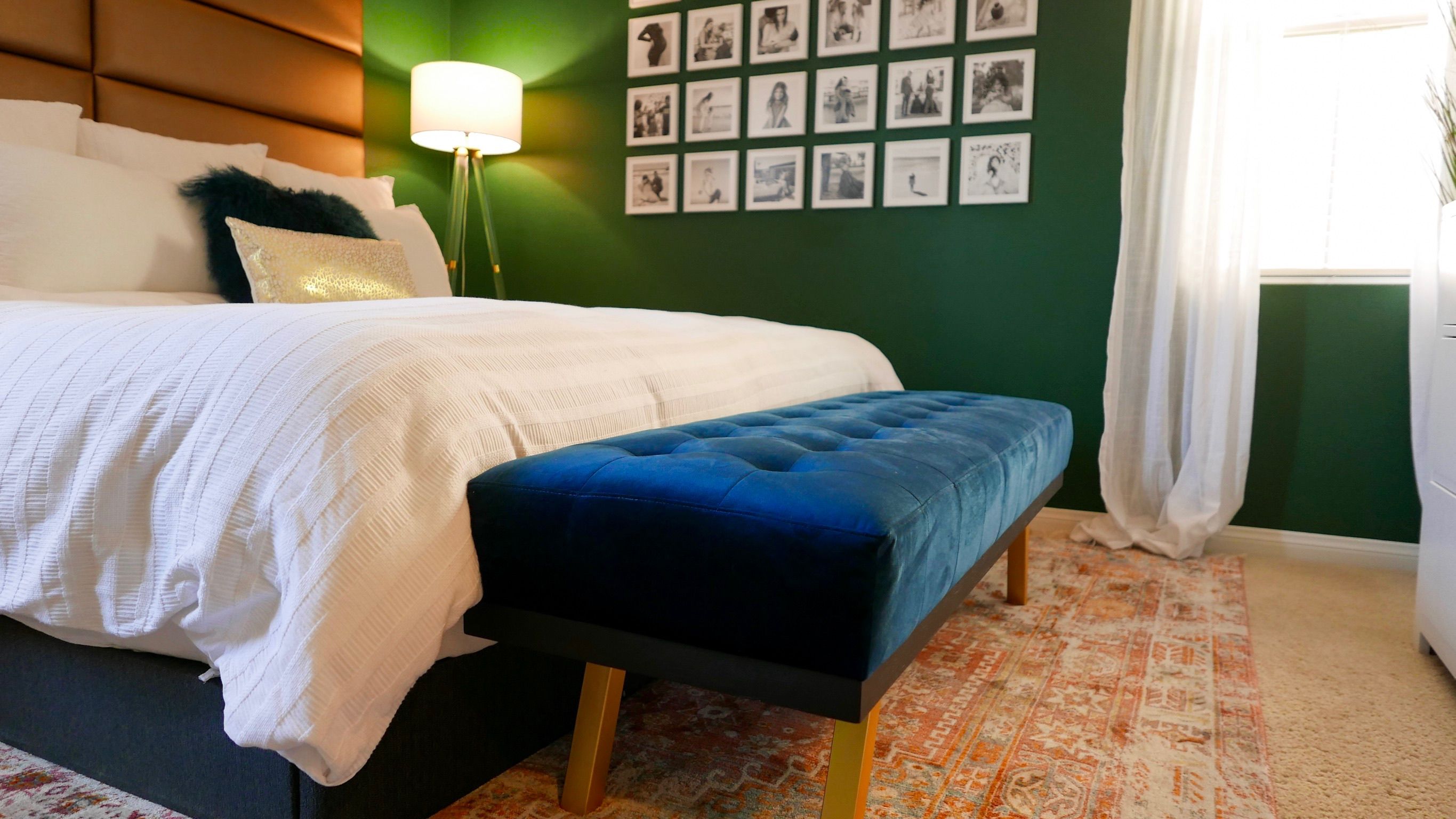 THE LIGHTING
Ok so we all know that picking the right lighting in the bedroom is super important right. Well, this part probably took me the longest to decide on as finding the right shape, height and look was not an easy task. I did finally decide on two beautiful lamps from Sleek Modern Furniture and I couldn't be happier. The marble base with the gold lamp shade really added a nice element to the room. Now the lamp on the night stand I did change to a white shade as I wanted it to match the tall lamp on the other side.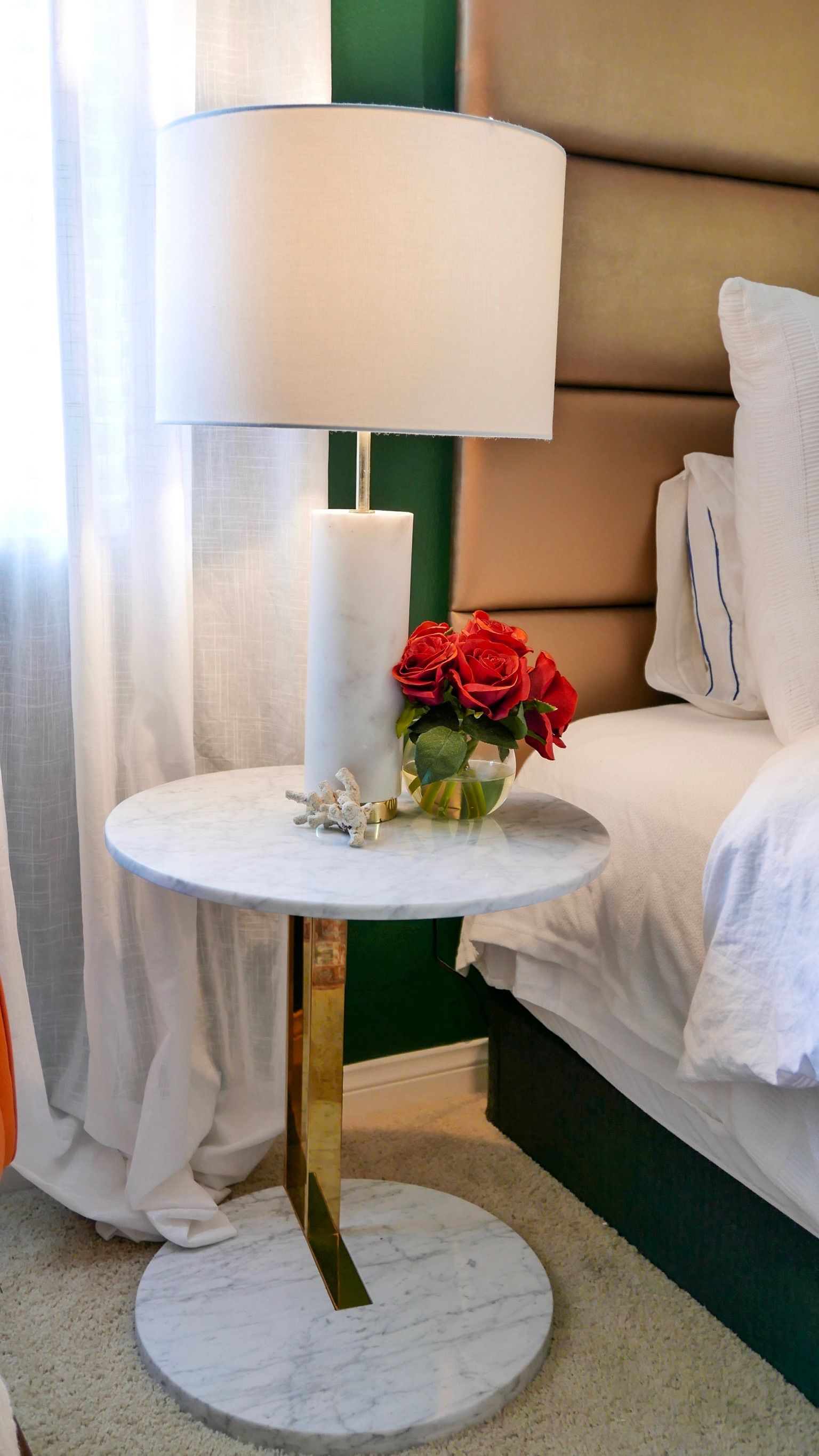 THE SIDE SPACE 
Once again I wanted to add a pop of color into the room that had warmth and this West Elm orange chair was just the right piece in every way. I fell in love immediately as the texture was perfect and it matched the rug perfectly. It was also the perfect height for the nightstand which also is from Sleek Modern Furniture.
THE GALLERY WALL 
Well, its a no brainier that we as family have a million pictures and of course we can't display them all. But thanks to Mixtiles we were able to pick our top 24 to create an epic gallery wall. Because there is so much color going on in the room I chose to stick with black/white photos to allow them to stand out on the wall and not compete with the room.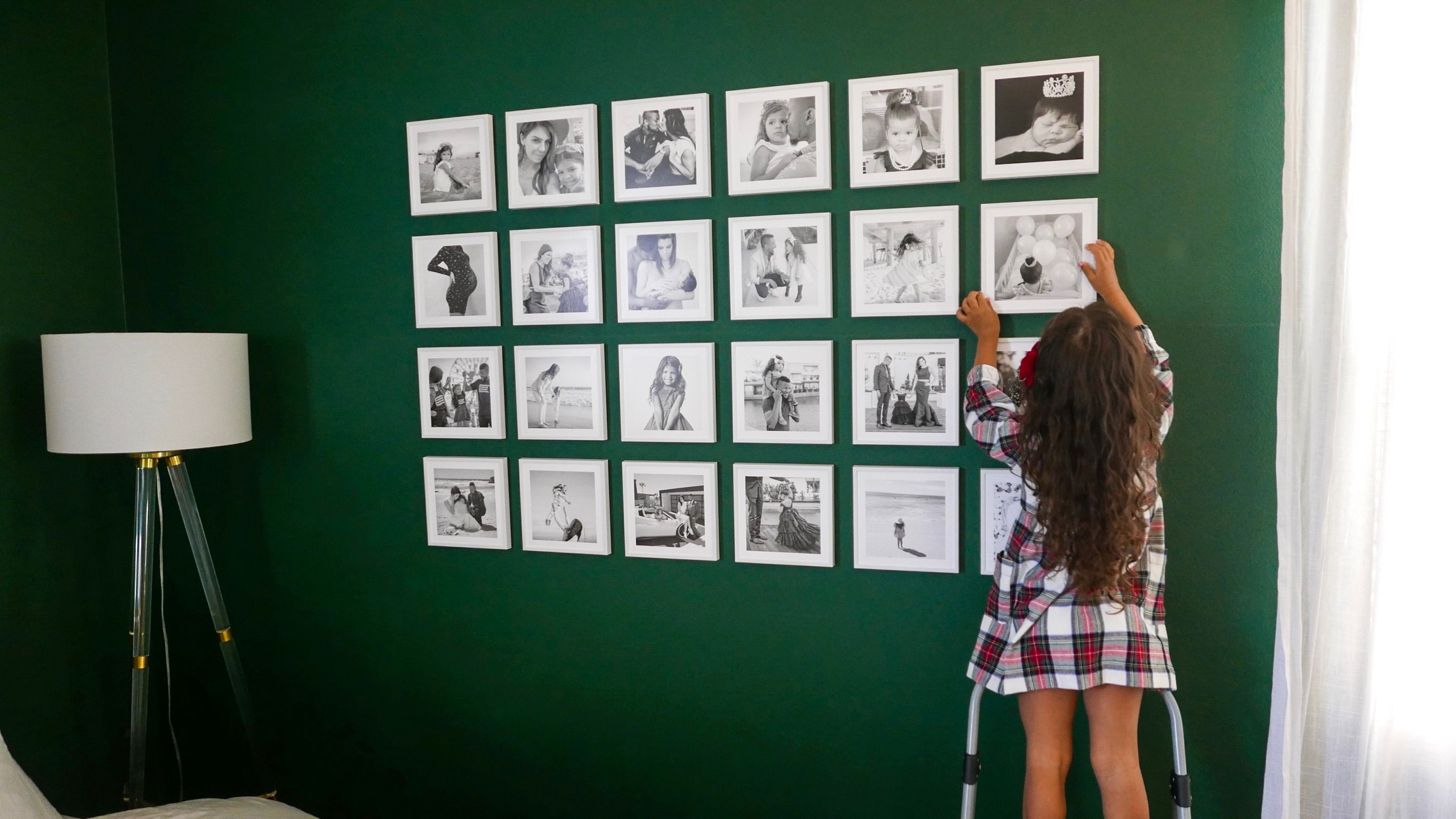 THE RUG 
The last piece to the design process was the rug. I waited to do this last as I wanted it to be able to bring everything together and being that there were already 4 loud colors going on in the room I wanted to find something that stood out yet complemented everything at the same time. I also made sure I chose something soft and easy to clean this one is from Rugs USA and I seriously couldn't be happier with it.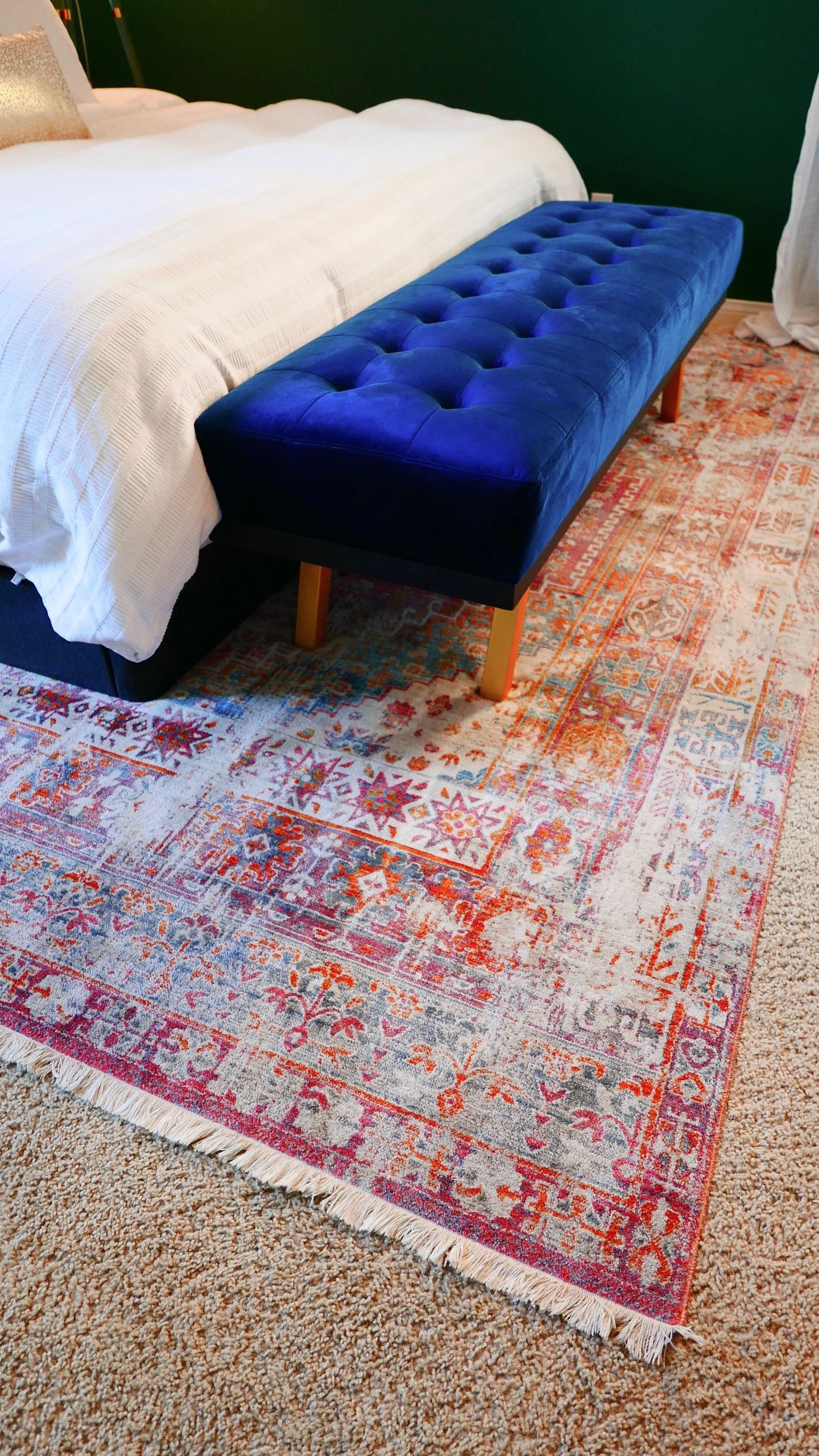 Until next time. Stay stylish!
xoxo, KTS