I am sure many of you know that it takes a lot of work to get out of the house with a toddler. Getting dressed in the morning can be like World War III and sometimes its a breeze. So many mornings the easiest and fastest hairstyle is to throw Kennedy's hair in a messy bun that look super cute and put together! Here is how to get this look: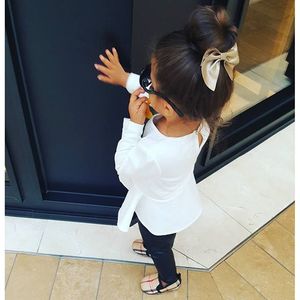 1. Gather items: Hair brush, gel, comb with pick end, hair spray, 1 hair tie
2. Place child on the bathroom counter. (I find if she has something to distract her it makes it easy for hair doing! So while she plays with the water and whatever else she can find on the counter I can do her hair, I will end up cleaning off the mirror later but still totally worth a tame toddler lol )
3.  Brush through hair completely. My favorite brush is the Wet Brush (I even keep a small travel size in my diaper bag)
4. Pull hair up towards the crown of the head gathering all sides as if to make a pony tail
5. Pull hair thru hair tie almost to the end and then wrap it around again creating a knot look with the hair
6. Then carefully pull two sides of the hair that is in the knot loosening it up. Do the same again on the opposite two sides of the knot. Once you have pulled it to the desired messiness spray with hair spray. 
7. Use gel to slick down any fly aways that are unwanted 
8. Rock the do!! Add a bow or headband to give it some flare!