When I had my daughter I knew I was going to have to learn how to care for her hair. As the texture and style was definitely going to be a little different from my own. Fortunately, her hair is very similar to my mother's and after watching my mom do her hair for many years I knew exactly what to do! Kennedy has always had a lot of hair since birth so I quickly started a hair care routine for her and have been doing so for the past two years. So if your child has naturally curly hair and you have no idea how to style it or how to tame it into something manageable then these tips are just what you need! Take notes and trust me by the end you will have your child's hair looking great!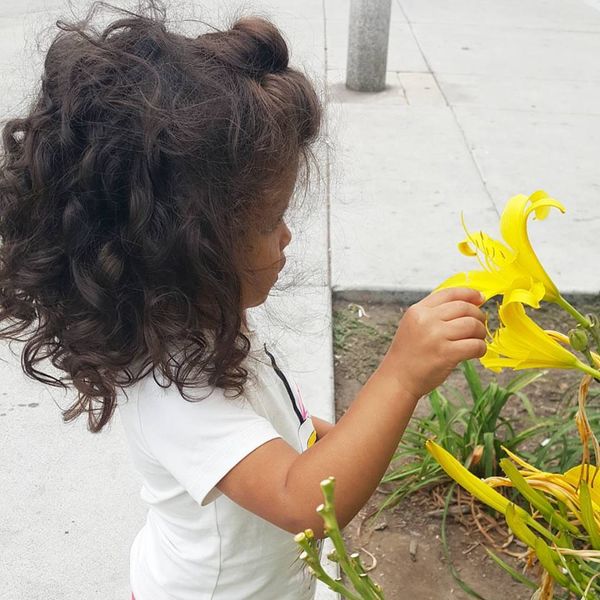 First off all, curly hair is definitely a world of its own and must be cared for differently from straight hair. From washing it, combing it and even cutting it all must be done correctly in order to have nice natural curls. Yes, it does take a little more work but the results are fantastic! Below are some tips to helping manage your child's natural curly hair. 
 

Never brush your child's hair dry.

This will cause the curls to become freezy and non ringlets. The only time you want to brush their hair is when its wet after you have shampoo and conditioned it. I recommend purchasing the Wet Brush which will make it easier to brush thru creating less breakage and no compliments from your child. 
Use your hands as a comb. When the hair is dry and gets tangled again do not brush just use your fingers as a comb. The less brushing the better. 
Wash hair 1-2 times a week MAX. Hair in general should not be washed everyday it strips the hair of its natural oils and can make it become very dry. So again the less washing the better. 
Use a shampoo and conditioner specifically formulated for curly hair. I recommend Ouidad KRLY Kids both the shampoo and conditioner are tear free and leave the hair feeling soft and giving the curls a nice bounce. Also, always shampoo twice to breakdown the first layer of dirt, product etc. 
Do a hair conditioning treatment. Once every other week I do a hair treatment, this boosts the hair giving it a nice overall shine and keeps it healthy. The curlier the hair is the longer it takes for the natural oils to travel from the scalp to the ends which can leave the ends feeling dried and frazzled which is why doing a conditioning treatment is so important! 
Let hair air dry. I try to use the least amount of heat on the hair as possible. Also, when they are young it is just easier to let it air dry then trying to defuse it with a blow dryer. If you are going to dry it then u need a defuser to put on the end of the blow dryer. 
Don't rub down. Once you have washed, brushed and are getting your child out of the tube the worst thing you can do is rub down the hair with a towel. What you want to do is gently blot ringing out the excess moisture. 
Use products. Once you have washed the hair and before it has dried the best thing to do is put some product in the hair to tame it and alleviate the freeze. First, use a nice serum on the ends I recommend Morroccan Oil. Then use a styling cream or mouse for curly hair use this from roots to ends. Personally for me it is cheaper to just use my own products on my daughters hair than buying her own so with that said I use Aveda's Phomolliant for the styling mouse. Once hair has dried and I am wanting to either put a bow in it or maybe a top knot I use a little hair spray to pin down the fly aways. Again, I just use my own hair spray which is by Aveda. I love it because it does not get sticky or make the hair crispy; you can even build on top of it. 
Have a professional cut the hair. Call around before just going to any hair salon and I recommend going to an adult salon not a child salon. Make sure the stylist knows how to cut curly hair. They should cut the hair dry and into the curls allowing this allows for you to see exactly how the strands will fall.  
So there you have it; how to care for your child's curly hair! Would love to hear how these tips work for you so leave a comment below! 

xoxo,
KTS