Last September I found out I was going to be having my first born the following May. At first I was totally excited and than reality set in and I started thinking I know nothing about baby products and what I need. I totally freaked out because there are endless things to know about raising a child on top of knowing what products I needed have. Just to bring your baby home there was a huge list! So feeling completely overwhelmed I started Googling anything and everything about babies. I have officially become the Google Queen by my family because I literally sat on Google for nine months researching each and every product my little bundle of joy was going to need for her first six months of life. I wanted the safest, most multi-functional, user friendly, stylish product of each item. My thought was just because I was becoming a mother did not mean I could not be fashionable while having a baby in toe. I was determined to be the most stylish and safest mother I could be. With that being said I definitely had my work cut out for me because if you are a mother or are pregnant with your first you know that are a million different products out there and determining which is the best was embarking on a large task that would be never ending. So thanks to my endless hours of research about strollers, car seats, bathtubs, breast pumps, high chairs etc. I have created a list of the top 12 products (in the spirit of the 12 days of Christmas) you need that you and your baby will equally love and will be a lasting product for either one child or a growing family...
1. Britax B-Safe Infant Car Seat $125:
The most important baby product of them all the one that will protect your precious cargo. This was the first thing I started researching when I found out I was pregnant. I knew it was so vital to have the safest car seat on the market. And after many months of research this car seat won because of its crash tested side, rear and front impact protection. It has a super easy base to install and has a user friendly guide for making sure it is at the correct incline. It also has a separate cushion attachment that has been crash tested approved so your babe is extra secure from all angles and is comfortable to boot. And of course it is compatible with the best stroller too!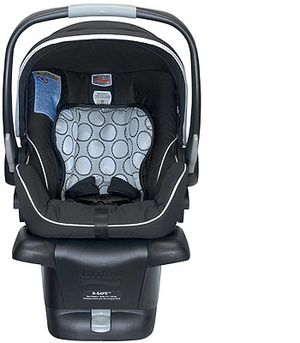 2. City Select Stroller $500:
My husband likes to call it the Porche of strollers. There is literally nothing that this stroller cannot do. It can go over any type of ground whether it be grass, sand, gravel etc; it can handle it all while your little one barely feels a thing. it can hold up to three children; yes you heard that right THREE children and all while still being able to fit through most retail aisles. And if you know about strollers with that many kids on it that is nothing short of amazing. It has a large storage compartment on bottom that can hold a very large weight amount. I kid you not I saw a mom with one that had her four year old son taking a nap in the storage area. lol. Now, I am not recommending you do that I am just letting you know it can hold a ton. It also opens and closes very easily and of course all while looking totally sleek and modern. It also comes in a variety of colors and has many different attachments depending on what stage your child is in. I seriously could go on and on about this stroller. Just remember if you are a mom on the go a stroller is something you will use a ton so you want something durable and that is user friendly. Yes, it may be a little more than your typical stroller but what you are getting for the price is amazing so go ahead and splurge on this product I promise you will not regret it.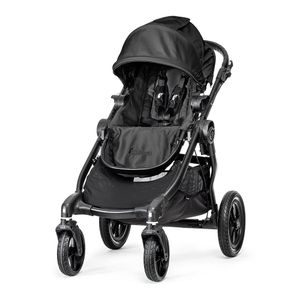 3. 4Moms Bathtub $50:
If you are a first time mom this is definitely something I am sure you will want to add to your list. Because we all know as first time moms we are extra cautious when we first bring our bundles of joy home. We want to make sure we have everything they need to be safe and nothing harmful. This can put all parents minds at ease when it comes to finding the right temperature of water for their little ones. Not only does it find the perfect temperature of water it constantly keeps the water fresh so your little one is not bathing in dirty water. And of course I love that it is comfortable for baby and keeps them from sliding down; even at seven months my daughter sits comfortably in it. This is the only bathtub like this on the market that has all these wonderful features and whats even better is the price. My daughter is now 7 months old and she is still using it.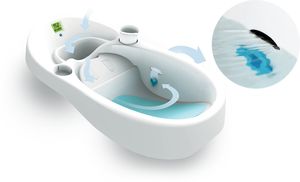 4.
Medela Pump In Style Advanced Breast Pump On-The-Go Tote $225
For all my breastfeeding mamas the most important thing you can have if you are going to pump is one that works really well. If you have a bad pump it can really screw up your milk supply and of course hurt your nipples. Medela by far is the best on the market and yes it is pricey but the money you save in breastfeeding compared to having to buy formula will still save you a lot in the long run. I particularly love this version of the Medela pump because you can be hands free while you pump (you do have to buy the bra to attach to pumps). Nothing worse than pumping one side at a time which takes forever and not to mention it actually is less efficient as well. Furthermore, if you are a mom on the go it's great because you can get the car attachment and pump in your car if needed or use battery pack. And of course if you are a fashionable working mama having a tote that is discreet is an extra bonus.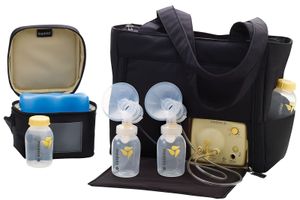 5. Juicy Leopard Diaper Bag $250:
When it comes to diaper bags it comes down to personal preference however, I will say I have got endless compliments on this bag due to its design and of course fabric! I love that it has so many compartments on the front and back that it is easy to clean and comes with a changing pad and wipe holder. I also love that you can adjust the straps to wear over the shoulder or across the body.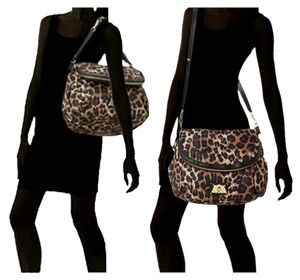 6. Sassy Inspire Sensory Bounce -A- Round $80:
When it came time to buy a bouncer we decided the best thing to do was take Kennedy to the store and let her check them out. I already had the one I wanted in my mind picked out but I wanted to see what she liked since she was going to be the one bouncing in it. :) I found that Sassy makes great visually stimulating products. Since babies can only see black and white in the beginning and then red next this was at the top of my list. Not to mention it has four different heights so it grows with you baby as well as it has many activities on it as well as additional toys you can buy to switch it up if they get bored. Oh and did I mention it has a door attachment too; seriously what a deal right! And of course its super easy to take the seat apart and wash. PS. I love all things Sassy! Besides Fisher Price I feel they really have the best products for developing our little ones.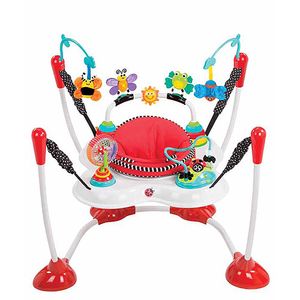 7. JJ Cole Stretch Wrap Carrier $35:
If you are a baby wearing mama or plan to be this by far is my favorite, not only is it user friendly but it is comfortable for mama and baby and of course looks fashionable too. This was definitely a life saver in the early months when I needed to get things done around the house and my little princess wanted to be close to me. She would fall right asleep because she was wrapped up close to me. It slips on like a shirt and your little one has the ability to sit inwards and outwards and can be used up until they are 35lbs.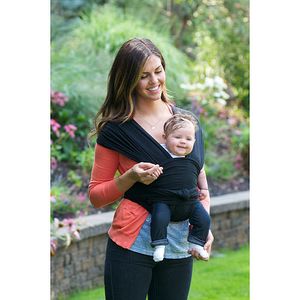 8. Baby Banz Ear Muffs $35:
I believe it is our duty as parents to do everything we can to keep our children safe and it amazes me how many parents I see ruining their children's hearing from the very beginning. Babies ears are very sensitive and this product really protects. These are a staple in my diaper bag because anytime we go to concerts or to church I just put these on and her ears are instantly protected. What is even better is they are comfortable and actually allows her to take a great nap too and drown out the noise. She is still able to hear it just cuts off the high pitch sounds. These come in multiple colors.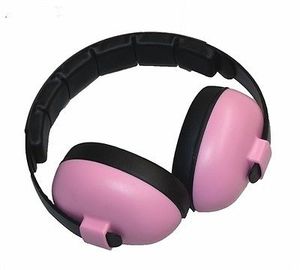 9. Fisher Price My Little Lamb Platinum Edition Cradle N' Swing $170:
In the beginning when Kennedy was first home it was so hard for her to fall asleep I knew there had to be something that would cradle her and help her to sleep so I could get some sleep too. This swing was one of the best investments not only did she love sleeping in it she loved playing in it as well. It has 16 songs and four nature sounds (which most babies love), two recline positions, three adjustable seat positions and of course it is comfortable too. What I really loved to was that it lights up and the little sheep move around, there is just so much to look at it really keeps babies attention. Easy to wash and use.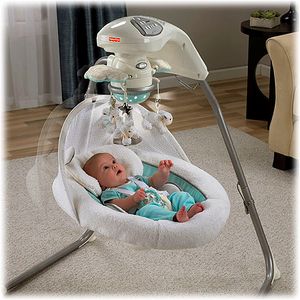 10. Munchkin Deluxe Drying Rack $7:
At first I felt bottle drying racks were pointless until I started using the bottles and pumping thus realizing how many little things had to be cleaned. So I finally went and searched for one that I could easily store when not in use and that did not take up very much counter space. This by far is my favorite it can hold eight bottles and tons of extra parts. So cheap and very handy!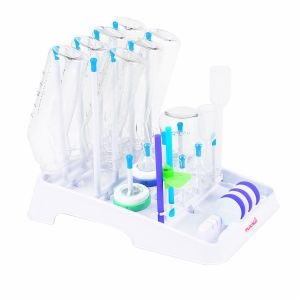 11. NuRoo Breastfeeding Cover-Up Scarf $30:
I was totally that pregnant woman that looked at pregnancy clothes and nursing clothes thinking oh my gosh what am I going to do. I want to be a mother but I am not sacrificing my style for it. So I went on the hunt looking for a nursing cover that did not look like a nursing cover. My favorite is this one that is breathable, light weight, stretchy, and comfortable for baby and me and most importantly functional. What I love even more that when I am not using it as a cover up it can be worn as a normal scarf. Oh and not to mention I have never had a slip up in public! :)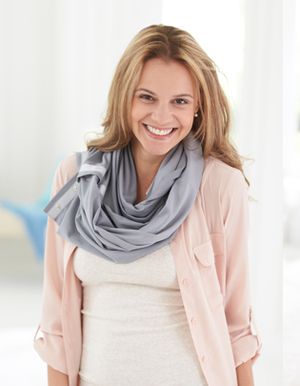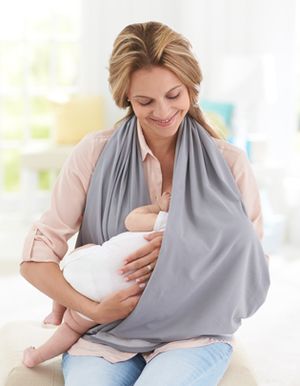 12. OXO HIgh Chair $250:
Being that I have a very modern home I had to make sure the high chair fit in as well. With that being said this one I found to not only be modern but the most functional, durable and the ability to grow with your child over their first five years. It has an easy adjustable seat, footrest and tray and moreover easy cushions to clean. It comes in multiple wood colors and cushion colors to fit every home's color scheme.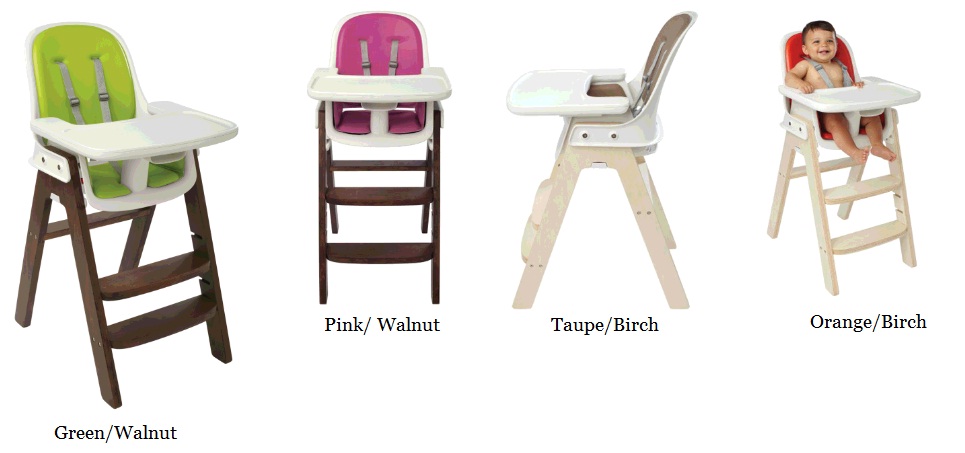 Happy Shopping my fashionista mamas! Until next time stay styled right with your mini's by your side! xoxo FSR