Can't believe we finally finished the office space in our home! You will find the space has form and function which took longer than I would like to admit to put together. But nonetheless I am totally obsessed with how it turned out. Like our bedroom because it is a space my husband and I both share it had to meet both our needs. Since my husband is a musician he needed a place that would inspire his creative juices along with the space to make that happen. I needed a uncluttered wall backdrop for which I would utilize for many of my blogging needs along with a mirror and a rack to organize all the product we receive daily.  When it came to the finishing touches I knew I wanted a gallery space and a cozy chair to curl up in as I write and edit content. Below is the finished room in all its glory.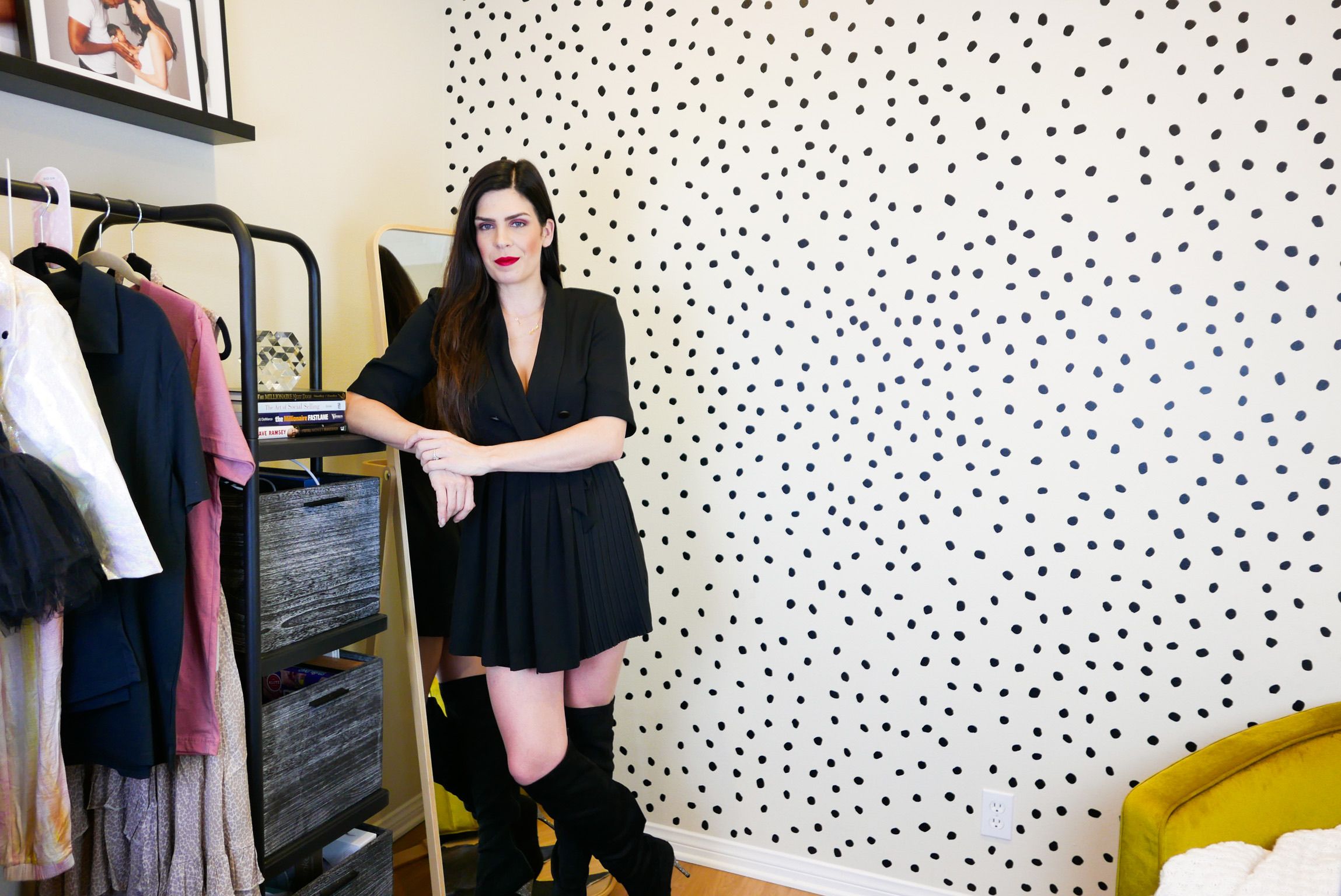 When it came to deciding on the perfect desk I wanted something that fit the feel of the room but still functioned for everything Chris needed. This L--shaped desk was just the one to do the trick. You can find the desk HERE.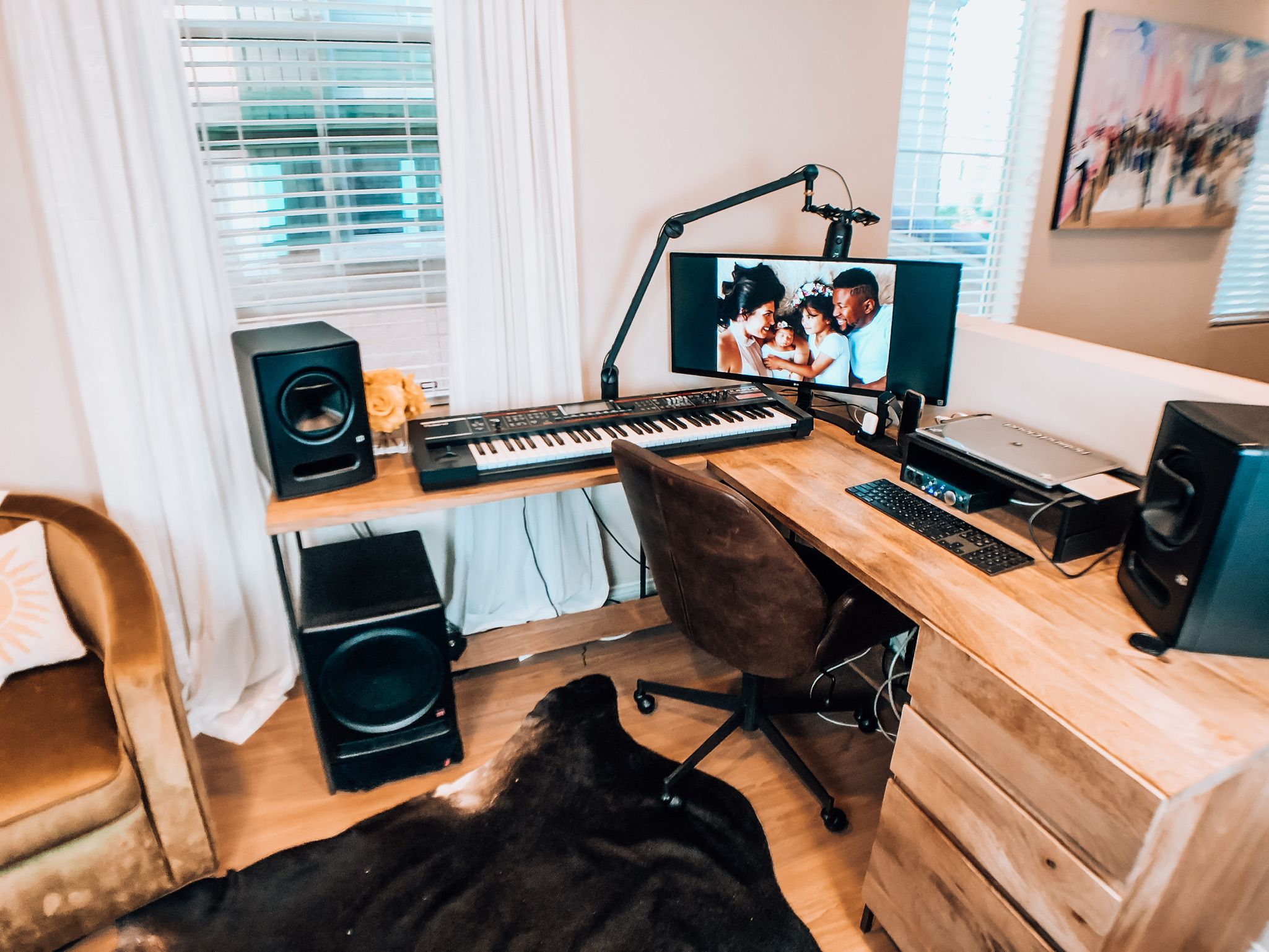 As Chris and I receive boxes on the daily I finally decided we need a place to organize and store everything so this rack was the perfect thing with a place to hang items along with a shelves for smaller items. Nothing like having everything in its place to make this momma happy! You can find the rack HERE.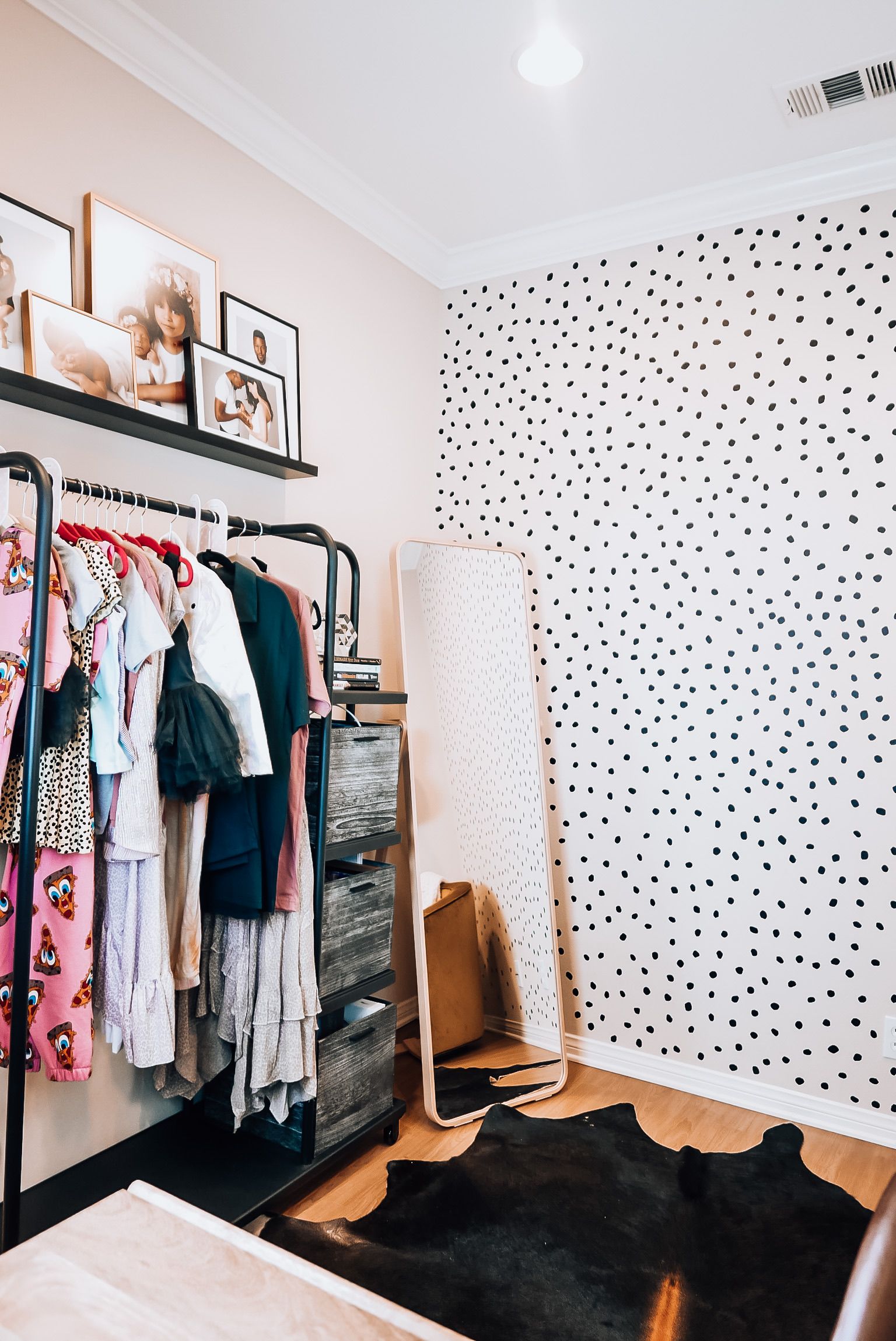 I am absolutely in love with the gallery shelf. Frame It Easy made it super easy to frame each picture to perfection. I could easily pick the size for each picture, the border and the frame design. Every picture came fulled mounted and ready to go on the shelf.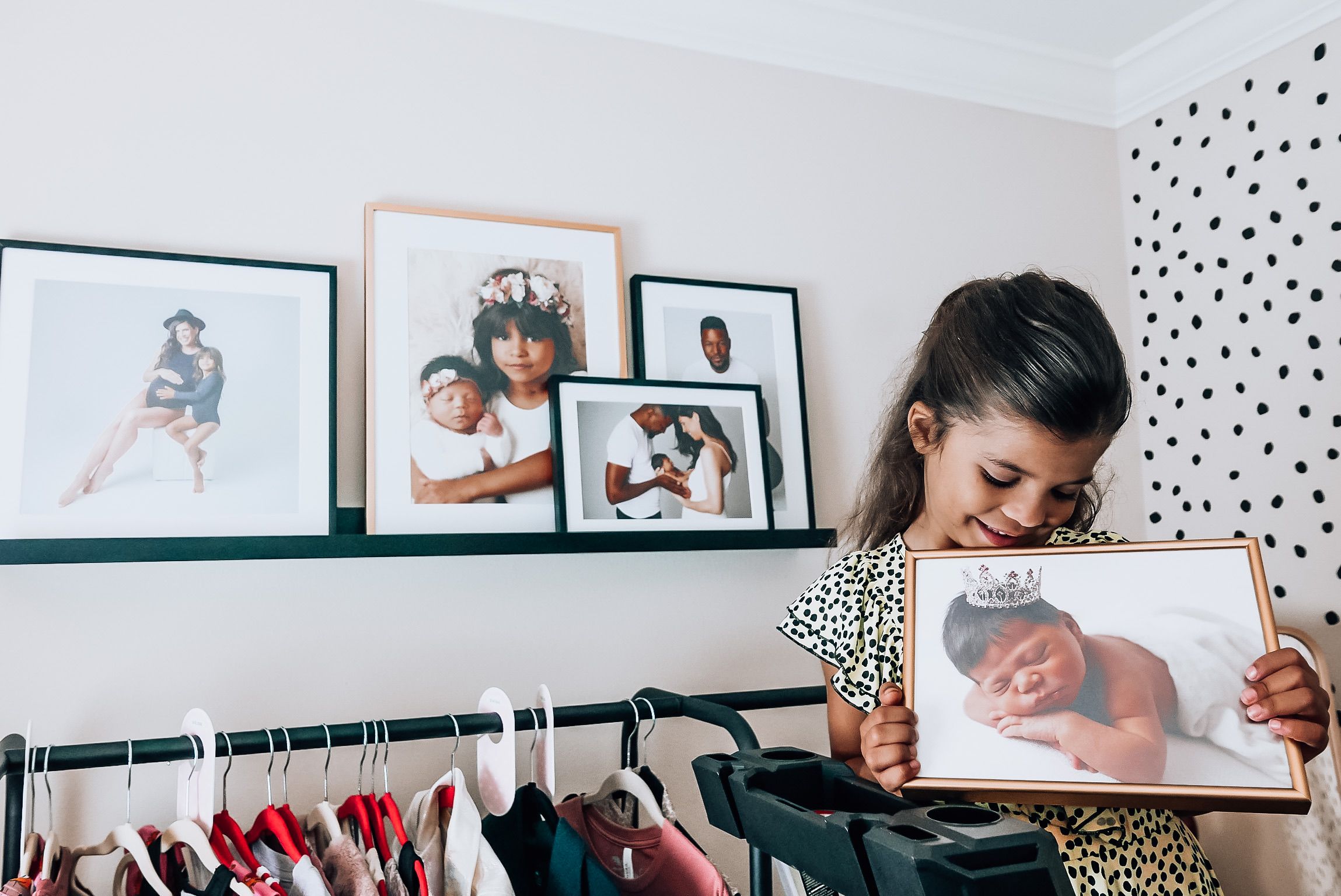 One thing I feel makes a house feel like a home giving it the cozy vibe is curtains. I love the sleek design of black rods and white curtains tying in the polka dot accent wall and gallery wall shelf on the other side. You can find the curtain rod HERE and curtains HERE.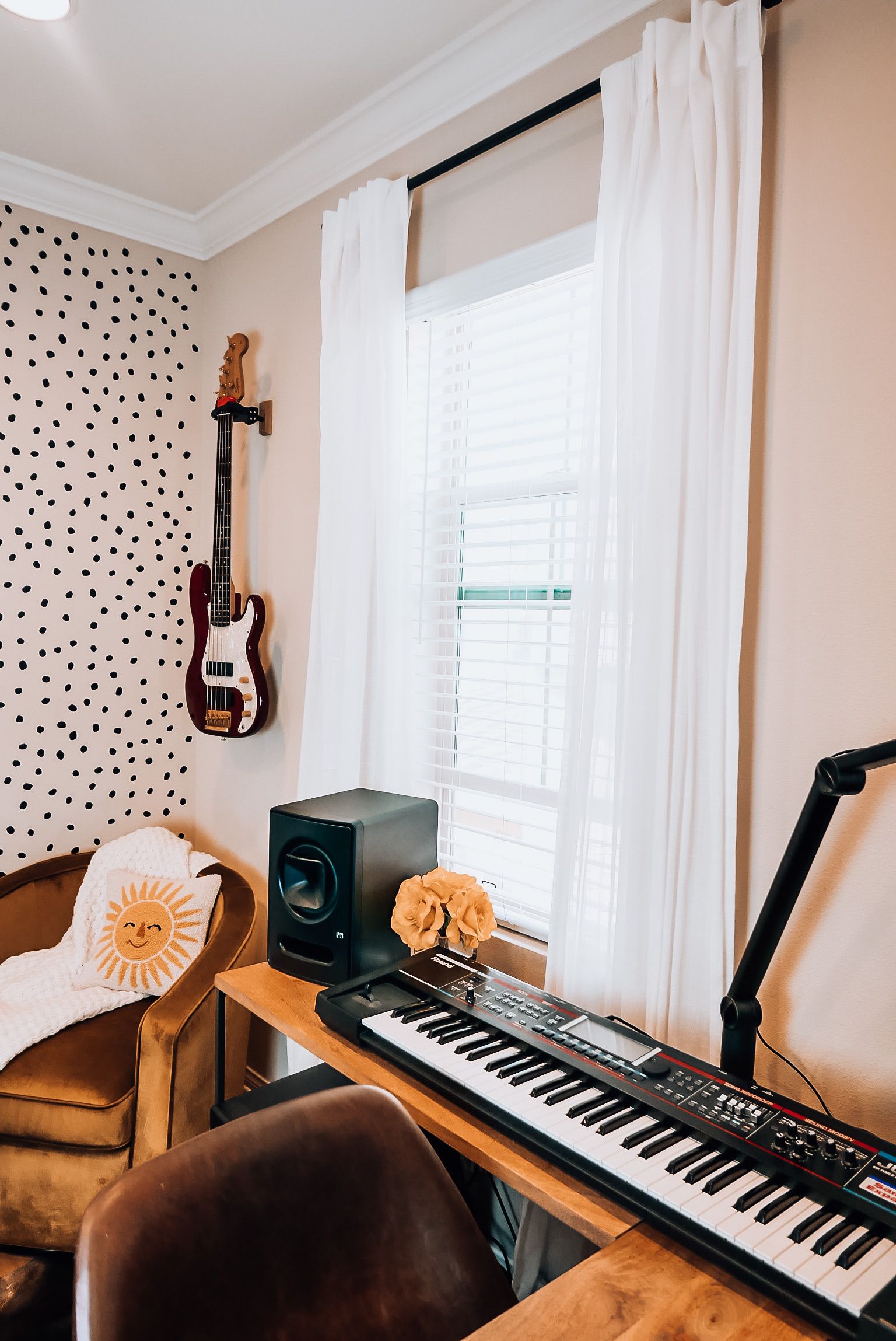 When I first started designing this room I knew I wanted an accent wall that would be the focal point. Because the den is off our kitchen, dinning and living room with an open concept it had to tie in with the rest of the room. So these polka dots were perfect because I could leave the color of the walls the same and just add to it. The time it took to put each dot up individually was definitely time consuming but totally worth the outcome! You can find these dots by Urban Wall HERE. 
And let's talk about this accent chair for a second because it is not only super comfy but so chic. Every room I feel needs a little color so this was the perfect item that would be the splash of color. I love that it elevates the room with soft velvet in the color Citron. This was fully customized at Interior Define. If you are looking for a custom piece of furniture this is definitely the place to order from.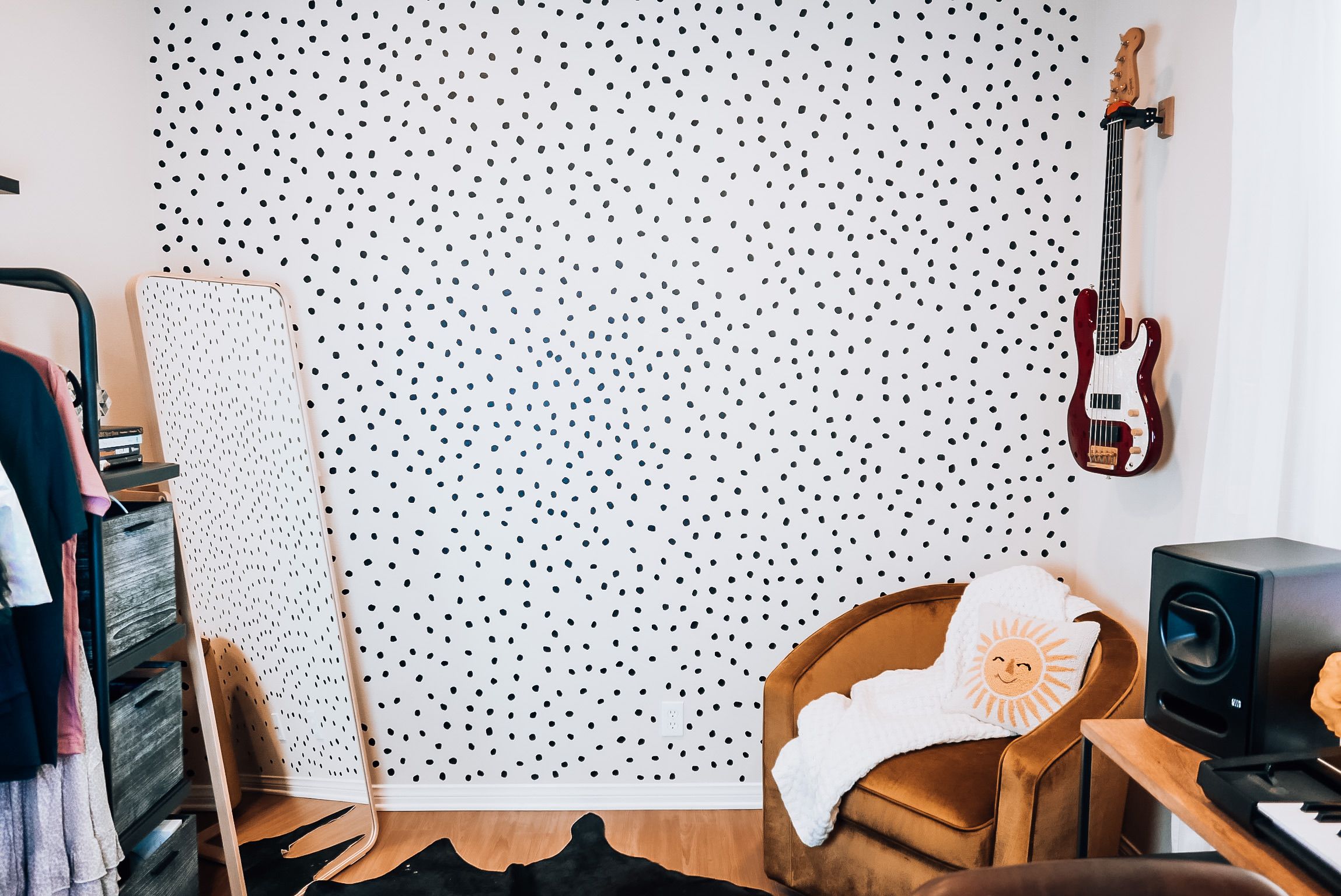 When it came to deciding on the perfect corner mirror we wanted something that was modern and not too big. This one was just right and even has a rack to hang items on the back. You can find it HERE.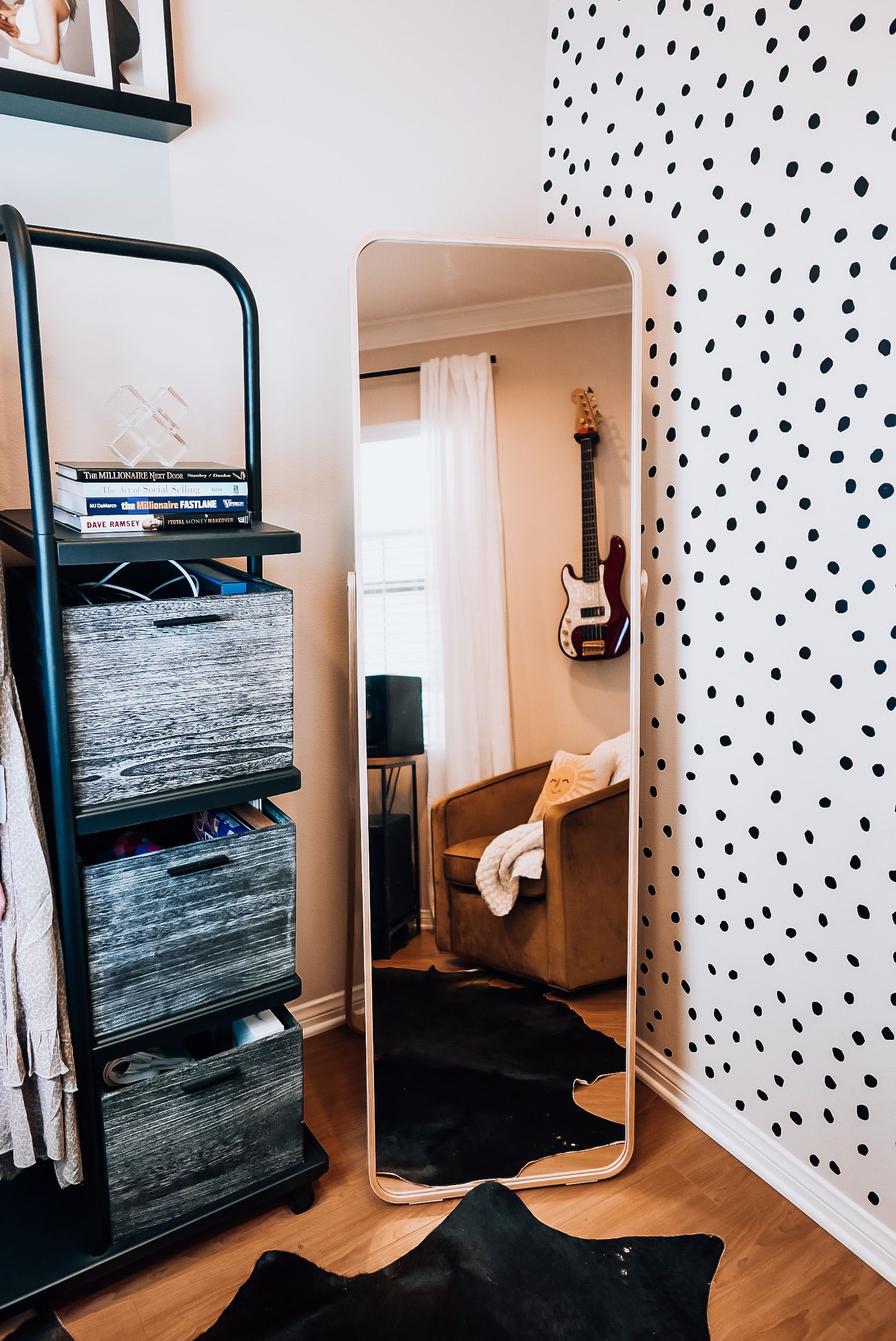 I would love to hear your thoughts on this room so make sure to put a comment below. And as always stay chic!!
XOXO,
KTS